Jape Sanera Enzym Direkt 0,5L
Regular price
Sale price
€12,00 EUR
Unit price
per
Share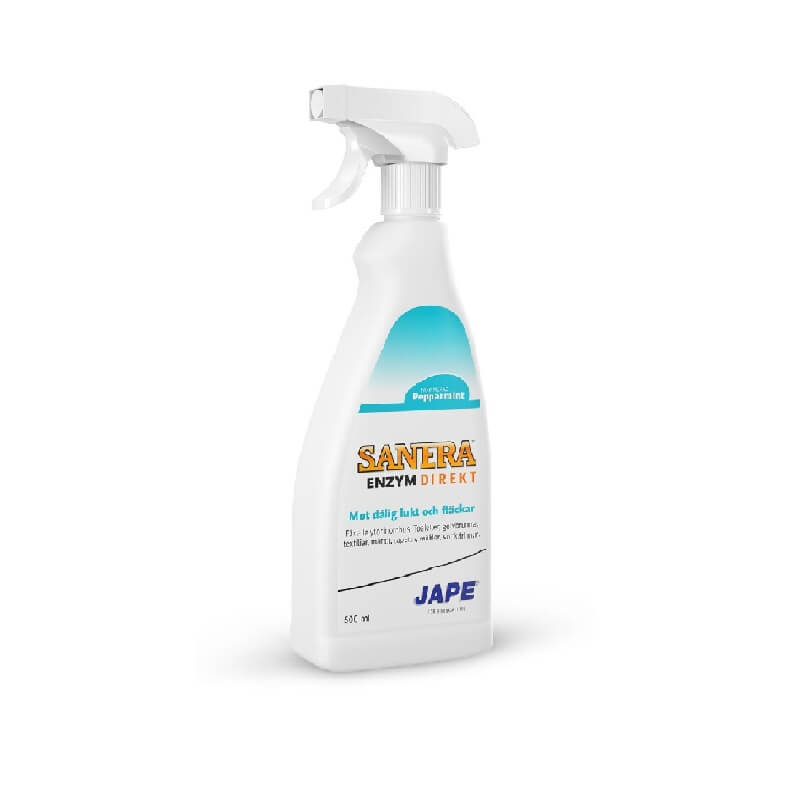 Description
Removes unpleasant odors of organic origin (urine, vomit, feces, food waste, milk, animal odors, etc.). Also for the removal of blood, coffee, wine and other stains. Volume 0,5 liters.

PH 7,0.
Color: white
Scented: mint
Where
Indoors

Against
Eliminates unpleasant odours
For
Any surface
Application
Spray

Dilution
Ready to use

Consumption
500 ml for 2,5 m2
Type of use:
Spray the product on the surface to be cleaned. Leave for some time to work, then treat the surface with a damp cloth or rinse with water. After application of Sanera Enzym Direkt, the surface may also be left without after-treatment.
The surface has a very strong odour:

Apply the concentrate to the surface with a spray bottle. Repeat treatment at regular intervals until the odour disappears. The surface may be treated additionally if necessary.

Large areas:

When treating large areas such as industrial, public areas Sanera Enzym is added as an odour remediation agent. Dilute the product with 10-20 parts of water. Treat the surface without repeated washing.

Pipes, drains, etc:

Pour 0,2 to 0,5 litres undiluted down the drain. In subsequent treatments, pour up to 0.1 litre into the drain at regular intervals, e.g. once a week (until the odour reappears). Treatments should be carried out when the facilities are not in use. Avoid flushing immediately after treatment.

Textiles, carpets (odours and stains of organic origin):

Clean the surface to be treated thoroughly with a brush, then apply the product with a spray or clean with a cloth dampened in the solution. If necessary, rinse with water. If the stain persists, repeat the treatment and cover the soiled area with a rag, film or similar to ensure that the product dries more slowly. If the stain disappears, wash the surface with clean water and dry with a dry cloth.
Technical specifications
| | |
| --- | --- |
| Dimensions (L x W x H) | 10 x 4 x 26 |
| Weight (g) | 550 |
Choosing a selection results in a full page refresh.