Jape Mögel-Fri® 5L
Regular price
Sale price
€69,99 EUR
Unit price
per
Share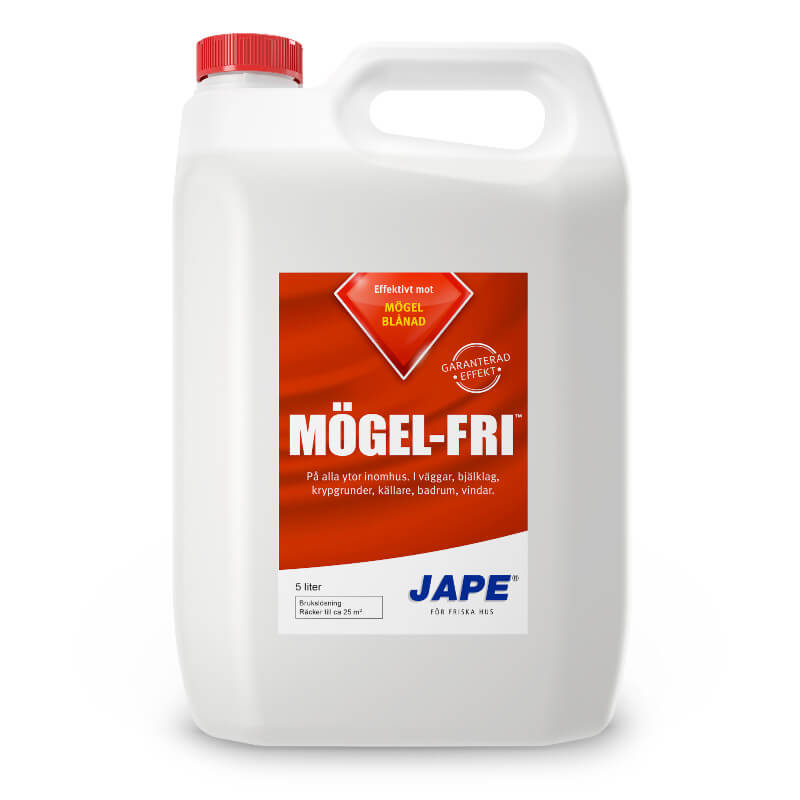 Description
For the effective removal of mould and mildew indoors. Surfaces to be treated: wood, concrete, plaster, etc. Volume 5 liters.


Mould and fungi die instantly;
Works on all building materials;
Does not cause adverse effects on building materials;
Eliminates odours caused by microbiological bacteria;
Functionality and effectiveness confirmed after testing by a Swedish research institute;
Biodegradable and protective agent;
Can be used as a preventive measure;
No need to wash off.
Where
Indoors

Against
Mould, fungi

For
Wood, concrete, plaster and other surfaces

Application
Spray

Dilution
Ready to use

Consumption
1 liter for 5 m2

Type of use:
Mögel-Fri is used in any part of the building: foundations, walls, basement, attic. The main advantage of Mögel-Fri is that it can be used for preventive purposes. Mögel-Fri is used as a preventive treatment for the building, for example, as a preventive measure. Mögel-Fri is applied evenly with a low-pressure sprayer, brush, roller or sponge until the surface is damp.

Tips
When spraying the surface, wear a face mask as the product may irritate the respiratory tract;
Also, wear gloves and goggles;
The treated surface can be controlled with a UV lamp as Mögel-Fri contains UV-active compounds for better monitoring of the hinge;
Advantage of Mögel-Fri.
CAUTION! If lichens grow on the surface to be treated, the surface must be treated with Grön-Fri at least one day before treatment with Mögel-Fri.
Technical specifications
Dimensions (L x W x H) 

cm

19 x 12 x 30
Weight (g)
5250

Choosing a selection results in a full page refresh.