2.0 RINNOVA VERTICAL 30 Thermodynamic heat recovery ventilation unit
Regular price
€2.999,00 EUR
Regular price
€4.114,00 EUR
Sale price
€2.999,00 EUR
Unit price
per
Share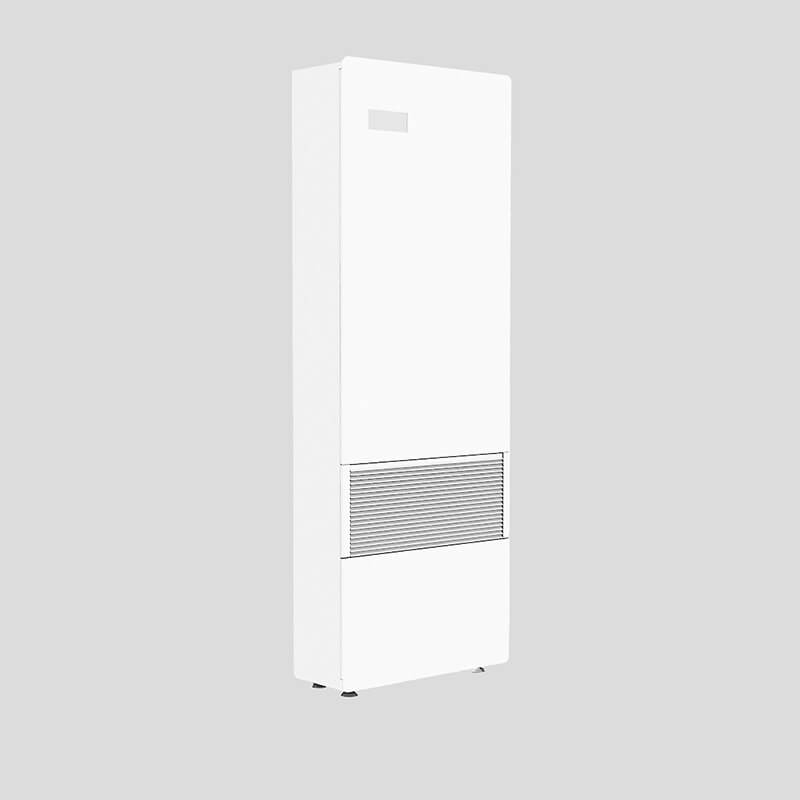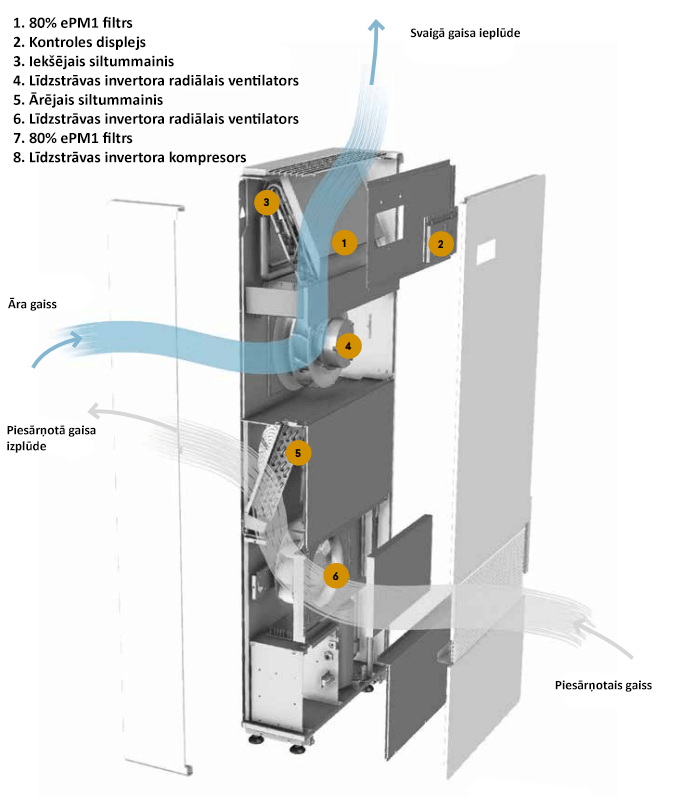 Description
Thermodynamic heat recovery ventilation unit 2.0 RINNOVA VERTICAL 30 with heating and cooling function, integrated air quality, humidity and temperature sensors.
It is necessary to improve indoor air quality especially in crowded spaces like public stores, offices, schools. Simply by opening windows is not enough and not comfortable, because mostly the air is polluted. That is why 2.0 RINNOVA Thermodynamic heat recovery unit is safe and easy-to-use, by one press the outdoor air is filtered and flowed right into indoors.
Outdoor air is the best solution to reduce indoor pollutants like viruses, cleaning products, dust VOC, CO2, etc.
Continuous air renewal.
Easy to install
Make two (

Ø 

162mm) holes in the outer wall
Install the unit
Connect the power supply
The thermodynamic heat recovery
Complete and safe

 

separation between the exhaust air and the fresh intake air;
Thermodynamic recovery

 

takes heat from stale air and transfers it to the fresh intake air;
In most severe conditions (e.g. external T. -5 °C) the

 

fresh intake air is at the same temperature as the extracted air,

 

20 °C;
At middle conditions (e.g. external T. 15 °C) the

 

fresh intake air is warmer and contributes to the heating of the room. Similarly, this also happens for summer cooling.
FEATURES
VERTICAL AIR FLOW
Nominal fresh air flow 320 m3/h. For rooms up to 12 people (25 m3/h per person, example referred to the fresh air intake flow rate for school environments according to UNI 10339)
AIR QUALITY CONTROL
Through the CO2, VOC, temperature and humidity sensors, it automatically adjusts the operation of the unit.
FRESH AND PURIFIED AIR
Renewal air and filtration air, with efficiency ePM1 80% filters.
DC INVERTER COMPRESSOR
Maximum comfort with the lower consumption and quiet operation.
CONTROL
Integrated touch-screen on device;
Handset control;
iOS and Android app;
Standard supply:
2.0 RINNOVA VERTICAL 30;
soft touch control display on the unit with integrated WIFI;
handset remote control;
installation template;
wall fixing bracket;
DN 160 external grilles kit, internal flanges and plastic protection film;
external anti bypass covers;
adjustable feet.
Technical specifications

2.0 RINNOVA VERTICAL SPECIFICATIONS
Fresh air flow rate (Boost/3/2/1)
380 / 320 / 190 / 130 m3/h
Space heating capacity without fresh air load
Space cooling capacity without fresh air load
Flat filters - 2 x ePM1 80%
Max Compressor power input
Heating - Indoor air min/max
Heating - Outdoor air min/max
Cooling - Indoor air min/max
Cooling - Outdoor air min/max
European Quality Certificate CE.
Choosing a selection results in a full page refresh.